Unleash Business Growth with the Best Mobile App Development Company
Leveraging our extensive expertise and a steadfast commitment to mobile app development, we pave the way for your business's triumph. Our team excels in creating high-performing, feature-packed, and digitally transformative mobile apps for both Android and iOS devices. Trust us to propel your business into the digital era with our top-notch mobile app development services.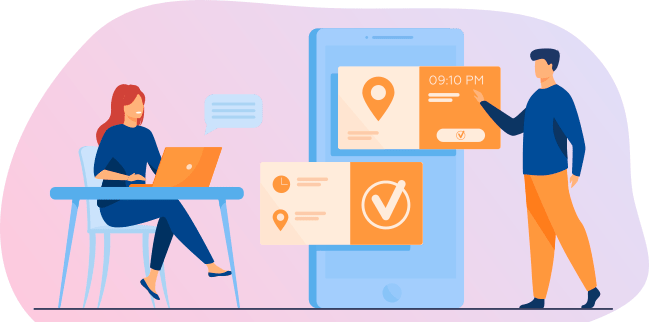 TOP MOBILE APP DEVELOPMENT AGENCY TO REACH YOUR TARGET CUSTOMERS WITH EASE
Investing in mobile apps can be a game-changer for your business. In today's smartphone-driven world, mobile apps can help you effortlessly reach potential customers and increase efficiency and productivity. As the best mobile app development company, Adroitcube has a reputation for delivering excellent mobile apps to clients. Our mobile app development services can be a growth driver for your business, taking it to the next level. Partner with Adroitcube for unparalleled mobile app development expertise.

Optimal Audience Coverage
We specialize in delivering mobile apps across all popular mobile platforms and mobile-enabled technologies to ensure the best possible reach to your target audience. Our mobile app development services are designed to help you expand your business and connect with your customers on any device, anywhere in the world.

Quality Assurance
Our skilled team ensures that all the features of your mobile app undergo thorough testing before they are deployed to the public. We don't settle for anything less than the highest level of quality and are committed to delivering a flawless user experience to your customers.
Unmatched App Designs
We have a team of industry experts with the skills required to create exceptional mobile app experiences, whether you're looking for a minimalist design or a visually stunning user interface that will leave your users wowed. We're committed to providing you with the best mobile app development services that will help you meet your business goals and leave a lasting impression on your customers.

Faster Delivery
We follow value delivery practices to ensure rapid functionality delivery and accelerated product launch while maintaining the quality and performance of the mobile app. Our team of experts works diligently to ensure that your mobile app is delivered on time, with all the necessary features and functionalities to help your business grow.
Our Design & Development Process
We conduct thorough research and analysis, develop a comprehensive strategy, implement it using the latest tools and technologies, and continuously monitor and optimize it for the best possible ROI. Trust Adroitcube for design and marketing solutions that deliver results




Transform Your Business with End-to-End Mobile App Development Solutions from a Top Mobile App Development Company
OUR MOBILE APP DEVELOPMENT SERVICES
Mobile App UI/UX Design
Our UX/UI design process focuses on creating user-centric mobile solutions that are functional and delightful to use. We pay close attention to user experience and interface design, ensuring our mobile apps are intuitive, easy to use, and visually appealing. Our team works closely with you to understand your business needs and create mobile solutions that exceed your expectations.
Mobile Widget Development
We specialize in developing custom mobile widgets that add real value to our clients' businesses and their valuable audiences. Our team of experts has exceptional skills in mobile widget development, enabling us to create innovative and functional widgets that enhance the user experience and drive business growth. Contact us today to learn more about how we can help you leverage the power of mobile widgets to take your business to the next level.

Native App Development
Our specialized teams for Android and iOS native app development handle the entire development process, from concept to Google Play or App Store submission. With our expertise, we ensure your mobile app meets the highest standards of performance and functionality. Contact us today to discuss how we can bring your app idea to life.

Hybrid App Development
We have a team of experts specializing in hybrid app design and development. We have a proven track record of launching successful products for numerous organizations. Our experience and expertise enable us to create high-quality hybrid mobile apps that deliver a seamless user experience across different platforms. Contact us today to learn more about how we can help you achieve your mobile app development goals.

Mobile App Consultation
Our team of senior mobile app consultants is here to meet your needs, whether you require full app management or consultation on development, strategy, or design. We are dedicated to providing expert guidance and support to help you achieve your goals and deliver the best possible mobile solutions for your business.
App Support & Maintenance
With our experience in helping clients overcome various challenges in their mobile apps, you can trust us as your support and maintenance partner. We provide reliable solutions that ensure your app continues to run smoothly and meets the needs of your users. Trust our expertise to keep your mobile app up-to-date and functioning at its best.
Already Know the Details of Your Project?
If you have all the details of your project figured out, why wait to get started? Our online project application makes it easy for you to submit your project details and get started with your development team as quickly as possible. With our streamlined application process, you can submit your project requirements and receive a quote within minutes. Our team of experienced developers works with you every step of the way to ensure that your project is completed on time and within budget. Trust Adroitcube for an online project application process that makes it easy to get started on your development project today.
Frequently Asked Questions
Looking to hire Adroitcube for Mobile App Development services? Get all your questions answered in our FAQ section. We have compiled the most commonly asked questions about our custom website development services. Don't see your question? Contact us, and we'll be happy to help you out!
What Is Native Mobile App?
A native app is a mobile application designed for a specific platform, such as iOS for iPhones or Android for Droid phones. These apps tend to be faster and more reliable than hybrid apps. Native apps can leverage the full capabilities of a device, including its camera and GPS, providing an enhanced user experience.

Native apps are built with the programming language specific to each operating system, allowing them to take advantage of built-in security features. This means they offer better security than hybrid apps, which are often developed using web technologies that can be less secure.
Native apps are optimized for specific devices and designed to work seamlessly with unique features like touch screens or voice input. This results in a better integration with the device, providing users with a more intuitive experience.
Since native apps use code that is only available on their respective operating systems, they have direct access to local hardware like cameras and GPS modules. This enables native apps to provide superior functionality compared to hybrid apps, which may rely on additional technologies like HTML5 to access hardware features
What are the Top 7 Hybrid App Development Platforms to Help Grow Your Business?
The mobile app market has exploded in recent years, and with so many platforms to choose from, it can be challenging to decide on the best one for your next mobile app. Each platform has unique features that make them stand out. To help you make an informed decision, let's take a closer look at some of the top mobile app development platforms available.
NativeScript
NativeScript is an open-source framework that enables businesses to build native mobile apps with Angular, Vue.js, TypeScript, or JavaScript. It allows developers to leverage their existing web development skills and deliver native UI and performance on iOS and Android.
React Native
React Native is a popular cross-platform framework created by Facebook and used by top companies like Instagram, Airbnb, and Walmart. It's an excellent choice for businesses that want to develop apps that work seamlessly on both iOS and Android devices.
Ionic
Ionic is another popular framework for building hybrid apps. It's an open-source platform with a large community of mobile app developers in India who contribute to its development.
PhoneGap
PhoneGap is a great option for businesses looking to quickly create quality hybrid apps. With PhoneGap, you can use web technologies like HTML, CSS, and JavaScript to develop your app and then deploy it to multiple platforms with ease.
Xamarin
Xamarin is a cross-platform development platform that enables developers to use C# to create native iOS, Android, and Windows apps. With a visual studio plugin, Xamarin makes it easy to develop, test, and deploy apps on multiple devices.
Flutter
Flutter is a hybrid app development platform that offers businesses the ability to create high-quality native apps for iOS and Android. It's fast, efficient, and easy to use, making it a top choice for businesses of all sizes.
OnsenUI
OnsenUI is a hybrid app development platform that helps businesses create cross-platform applications. It's packed with features and tools designed to streamline the app development process, making it a great choice for businesses that want to create fast, reliable, and user-friendly hybrid apps.
Ionic Framework
Ionic Framework is a free and open-source toolkit for building cross-platform mobile apps. It offers a library of mobile-optimized UI components, gestures, and tools for building highly interactive apps quickly and easily. Built on top of AngularJS and Cordova, Ionic Framework is an excellent choice for developing hybrid apps.
In conclusion, understanding the unique features of each platform can help you make an informed decision when it comes to choosing the best mobile app development platform for your business. Whether you're looking for a platform that allows you to build hybrid or native apps, there's a platform out there that will meet your needs and help you achieve your business goals.
What are the Top Mobile App Development Mistakes You Need to Avoid?
Mobile app development is a lucrative business, but not all apps are created equally. Many fail to reach their full potential due to oversights or poor planning during the development process. To help you avoid costly mistakes and make your app as successful as possible, here are some of the most common mobile app development mistakes to avoid at all costs.
Start with an MVP
Creating a perfect app from the get-go is not necessary. In fact, an MVP, or minimum viable product, is a version of your app with just the core features. This allows you to get feedback from users and make necessary changes before investing too much time and money into development.
Invest enough time and money
The first and most common mistake is not investing enough time and money into the development process. Quality apps take time and money to develop, so skimping on either of these things is a recipe for disaster.
Come up with a unique concept
In a world where there are millions of apps, it's crucial to ensure your app offers something unique that will appeal to users. Without a unique concept, your app is likely to get lost in the shuffle and never be downloaded.
Assemble a team of experts
Designing and developing an app requires a lot of different skills. Trying to do everything yourself will likely result in an inferior product. Assemble a team of experts who can help you create a great app.
Focus on core features
When you try to pack too many features and functions into your app, it can end up being confusing and overwhelming for users. Stick to the core features that are essential to your app's success.
Get your app approved on all stores
When you develop a mobile app, ensure that it is approved by all of the major app stores. Otherwise, you could be missing out on a lot of potential customers.
Localize your app
If you're not localizing your app, you could be missing out on a huge opportunity. Localizing your app helps ensure that it is relevant and useful to users in different markets.
Choose a reliable development company
It's important to do your research and select a top mobile app development company that has a good reputation and track record.
Plan your budget accordingly
Developing a high-quality app takes time and money. Skimping on either of these factors will likely result in an inferior product. So, when putting together your budget, factor in the cost of both development and testing.
Have a clear focus and plan
It's important to have a clear idea of what you want your app to achieve before you start development. Trying to do too much with your app can lead to problems down the line, so it's crucial to be aware of your app's scope from the outset.
What Is a Hybrid App?
A hybrid app is an innovative type of mobile application that combines the best features of both native and web-based apps. By using a combination of web technologies like HTML, CSS, and JavaScript, and native platforms like iOS or Android, hybrid apps can be installed on a device like a native app, but also run in a web view like a web-based app.
Hybrid apps offer numerous benefits to businesses looking to develop mobile applications. For one, you can save money by developing a hybrid app because it only needs to be built once for multiple platforms. This cost-effective approach to app development makes it an attractive option for businesses on a budget.
Another advantage of hybrid apps is their faster development time compared to native apps. With the same codebase used for multiple platforms, your team doesn't have to worry about different operating systems or devices, making it a quick and efficient process.
Hybrid apps are also easier to develop than native apps, allowing businesses to get their products to market faster. Additionally, hybrid apps are more flexible, which means businesses can easily make changes and updates without having to re-submit the app to an app store.
Lastly, hybrid apps are more cross-platform compatible than native apps, making it easier for businesses to reach a wider audience with their product. With all these advantages, hybrid apps are a great choice for businesses looking to develop mobile applications that can reach a broad audience while remaining cost-effective and efficient.
What are the Top Mobile App Development Trends You Can't Ignore
Mobile app development is a fast-paced industry, and staying on top of the latest trends is essential for success. Here are some of the top mobile app development trends for 2023 that you need to know about.
Artificial Intelligence (AI) and Machine Learning (ML)
Artificial Intelligence (AI) and Machine Learning (ML) are two of the most popular trends in mobile app development. These technologies have the potential to revolutionize the way we interact with apps, from personalizing content to improving user engagement.
5G Technology
5G Technology is set to transform the way we use mobile devices, offering faster data speeds, lower latency, and more reliable connections. With augmented reality, virtual reality, and connected cars all set to benefit, 5G is one of the most exciting trends in mobile app development.
Augmented Reality (AR) and Virtual Reality (VR) apps
Augmented Reality (AR) and Virtual Reality (VR) apps are becoming increasingly popular, offering users a unique and immersive experience. With the rise of AR and VR, there is a growing demand for apps that take advantage of these technologies.
Data-Driven Decision Making
Data-Driven Decision Making is becoming increasingly important in the business world. By relying on data to inform decisions, businesses can gain a competitive advantage and stay ahead of the curve.
Apps for Foldable Devices
Apps for Foldable Devices are becoming more popular as these devices gain in popularity. To stay ahead of the curve, developers need to think about how they can create apps that take advantage of the unique capabilities of foldable devices.
M-Commerce
M-Commerce, or mobile commerce, is growing in popularity, with sales expected to reach $284 billion by the end of 2020. To take advantage of this trend, businesses need to incorporate m-commerce into their business plan.
Beacons Technology
Beacons Technology is a trend that is set to revolutionize the way we interact with mobile devices. Beacons provide contextual information and targeted content to users, and can be used for indoor navigation and tracking user behavior.
Security Concerns Around Data Privacy Issues
Security Concerns Around Data Privacy Issues are more important than ever, with consumers increasingly concerned about their data privacy. Developers need to be extra careful when handling user data to ensure they maintain their customers' trust.
Blockchain Technology
Blockchain Technology is becoming mainstream, with many businesses adopting this technology to improve security and transparency. As blockchain continues to grow in popularity, it will become a key trend in mobile app development.
Wearables Technology
Wearables Technology is another trend that is set to revolutionize the way we use mobile devices. Developing apps for devices like the Apple Watch or Android Wear can be a great way to get ahead of the curve.
Instant Apps
Instant Apps are a great way to improve the user experience and increase engagement. By allowing users to access parts of your app without having to download it first, you can get your app in front of more people and improve user engagement.
In conclusion, staying on top of the latest trends in mobile app development is essential for success. From AI and 5G to AR and VR, there are many exciting trends that developers need to be aware of to create apps that are both innovative and user-friendly. By incorporating these trends into their development strategies, businesses can gain a competitive advantage and stay ahead of the curve.